The first Italian National Workshop of the SECOVE project was hosted by Ciofs-fp and took place last November 2022. Due to the geographical dislocation of the Italian partners, the workshop was held on a digital platform, in three different dates (14, 15, 21 November 2022).
All Italian partners of SECOVE attended the event:
The overall number of stakeholders involved was more than 20 – including entrepreneurs, professionals and business representatives from the private and public sector, and VET organizations.
Each workshop started with a presentation of the SECOVE project, the workshop agenda and objectives.
The meetings focused on three macro-themes:
what excellence means in VET
which are the challenges and needs of different stakeholders
how SECOVE will address the vision for excellence
The participants explored the topics by answering a series of questions and sharing their thoughts on how to:
give maximum visibility and concreteness to the project,
encourage and consolidate strong and concrete cooperation between the participants,
establish excellence in teaching and learning, cooperation and partnership activities.
Constructive and interesting reflections emerged from the discussions, and issues that are deeply felt in our country were raised. Among the latter, the need -with the view to achieving excellence in teaching and training- to reconcile theory and practice, addressing the problem of the mismatch between professions that do not find jobs and professions that do not find competent people, that in our country is particularly evident. The tools for better linking education, training and the world of work exist but companies are often unaware of them.
To achieve excellence in cooperation, the shared thought is instead of focusing on only sharing experiences and skills, to also work on communication and dialogue and always keeping in mind that competition and confrontation are two different things, and that the comparison with those who have more experience is positive and allows people to grow.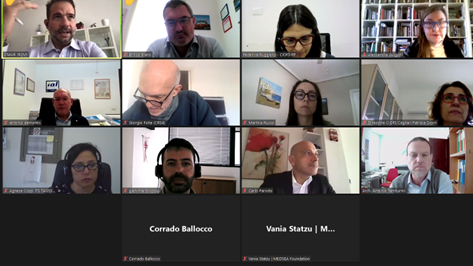 When it came to the topic of job market needs in the Sustainable Energy sector, another key issue emerged: the need to reduce bureaucracy and, for institutions, local authorities and municipalities, to start reading the market's needs in advance and act accordingly.
The creation of synergies between industry representatives and VET was another one of the topics on which the participants expressed their opinion, reaching a common conclusion: one of Italy's problems is the lack of relations between the wet system and companies. There should be more communication and mutual support, especially when it comes to internships and trainings. For several stakeholders, training is also crucial to create productive activities on their territory and its development, in socio-cultural and economic terms. True skills create development, a concept which can be extended to many sectors, first of all the Sustainable Energy field.
At the end of the meetings, everyone's impression was very positive and the desire to act and get involved was palpable. Project SECOVE is seen as something that could really facilitate the "process of doing", something which is already happening in the Italian network.